Regular price
$149.00 AUD
Regular price
Sale price
$149.00 AUD
Unit price
per
Sale
Sold out
Shipping

Free standard delivery for online orders over $95.00
$9.95 standard shipping
$14.95 express shipping
Kulkul Star Box includes:

A handwritten Thankyou card

Include your own personalised message
Card features 'Three Realms' artwork by Kayla Arabena-Byrnes 

5 Ilan Style Loose Leaf Native Australian Herbal Tea Blends 40g

Handpacked in reusable tins, with no single-use plastics 

1 x Ilan Gratitude (Tropical Breakfast)
1 x Ilan Purpose (Moringa Lemon)
1 x Ilan Kindness (Rosella Berry)
1 x Ilan Presence (Native Mint)
1 x Ilan Wonder (Cacao Licorice)

(or create your own combination of five flavours by noting what you would like in the messages) 

1 x Stainless Steel Tea Infuser

1 x Ilan Style Affirmation Cards 50 pack 

Printed in Australia on recycled paper
Free from single use plastics
Words by Kerry Arabena  

1 x Ilan Style Upcycled Affirmation Card Holder

Handmade in lutruwita / Tasmania
Each piece uniquely crafted and branded 

1 x Dugong Dance Tea Towel 

100% machine washable cotton
Premium 180gsm twill weave
Dugong motifs by Kayla Arabena-Byrnes  
Printed in Australia, by Printing with Purpose
Share
View full details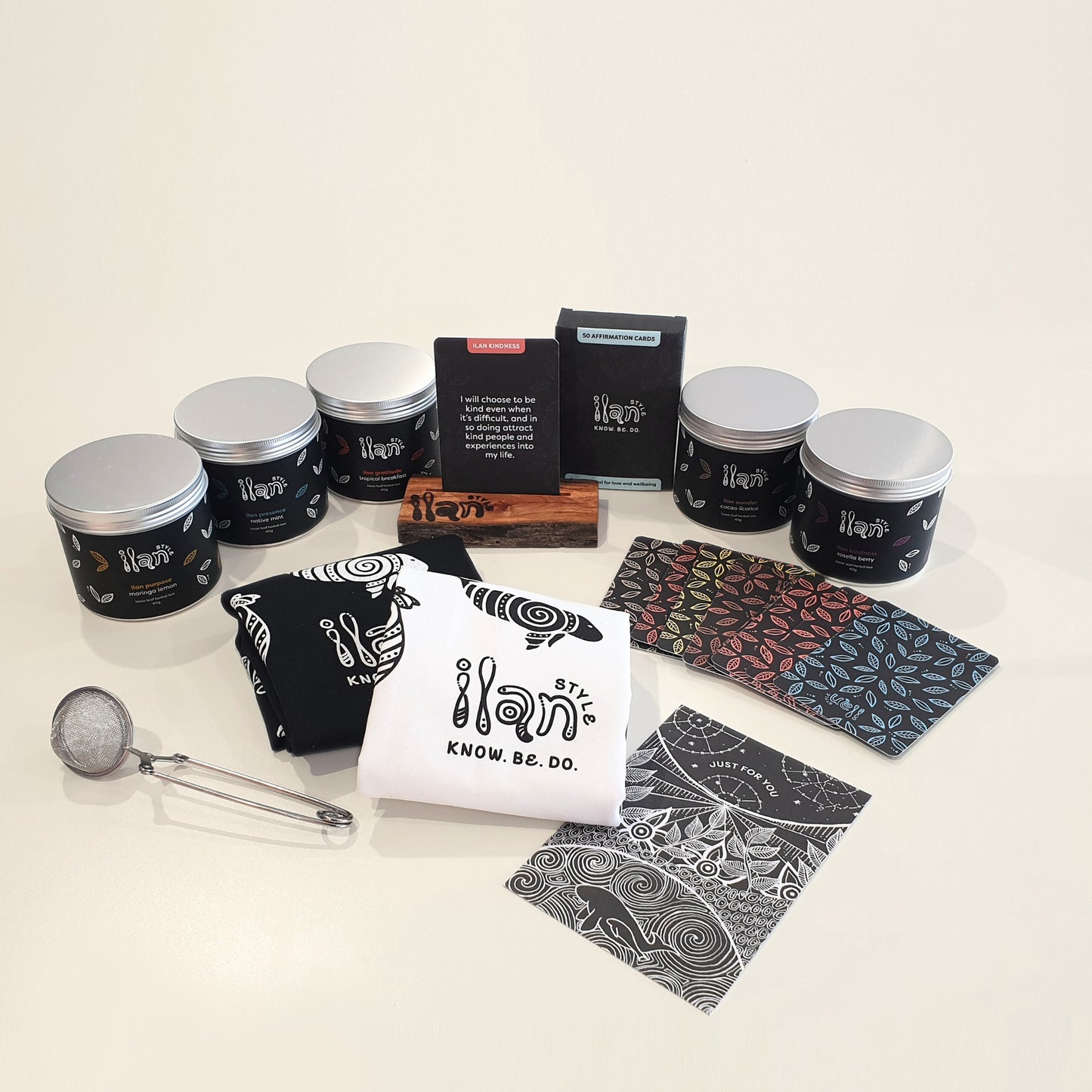 Ilan Style Kulkul Star Box
Pronounced kool-kool, meaning 'star' in Meriam language.
Ilan Style Kulkul Star Box is a precious gift, where appreciation, joy, and mindfulness harmoniously unite, like constellations painting the night sky.
Share the gift of a Kulkul Star Box, and step into a natural and uniquely Australian realm, filled with gratitude and boundless inspiration. We named this one 'Kulkul Star Box' because it contains the bestselling 'stars' of our Ilan Style range, and serves as a sparkling tribute, honouring the breathtaking beauty of the water, land, and sky environment that surrounds us, and paying homage to our connections to all that is, has been, and will be.
As you open or share Kulkul Star Box, we invite you to infuse your daily moments with affirmations of gratitude, purpose, kindness, presence and wonder; allowing yourself to be guided along an ancient and luminous path, where people walk and share stories together, treading lightly and respectfully.
Kulkul Star Box is a convenient gift, all the work is done for you. Handpacked with care, and including free carbon-neutral express delivery to your chosen recipient, in any location in Australia.